Motor Village LA is in your neighborhood! Yes, we're neighbors. We are the dealership that is not too far from most areas in Los Angeles, easily accessible by expressway, and also very easy to deal with.
Take A Virtual Tour!
View Larger Map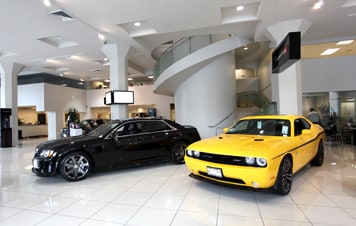 We provide a hometown feeling in your neighborhood and also have the advantage of being part of a much larger group of dealerships that strives to constantly improve, grow and learn to better support the needs of our customers. 
Whether you notice our state of the art website with numerous cutting edge features and functions, or our inviting showroom, or our customer appreciation process, it's likely that you'll recognize the hard work we put into providing a wonderfully smooth and easy vehicle purchase experience for our customers.

Here at Motor Village LA, it's understood that you are the boss! Our customers determine whether we're doing a great job or not. We take that very seriously and work extremely hard to make every customer a happy customer.
Please come visit us soon. We serve the needs of the entire Los Angeles area with our centrally located showroom in Los Angeles, CA. Motor Village LA is the local dealer of choice.About:
About Motor Village LA 
Your Los Angeles Chrysler Dodge Jeep Ram Fiat Dealer
Formerly known as La Brea Chrysler Jeep in Los Angeles California, Motor Village LA opened its doors at its new location in
downtown Los Angeles on
January 31st 2011. Moving from La Brea Ave. to Downtown LA, the Motor Village LA dealership is
centered around a five-story glass tower filled with cars: Chrysler, Jeep, and Dodge brands on the first floor, Fiat and Ram Truck on the second, along with Mopar parts.
The state-of-the-art facility will help customers better find their way to the cars of their dreams with the help of brand signs and kiosk-like information and merchandise towers. 
"The Los Angeles Motor Village goes above and beyond the traditional Chrysler Group dealership," said Peter Grady, Chrysler Group's vice president of Network Development and Fleet. "This dealership creates a presence both inside and out. Our customers will experience our brands in unique salons that reflect each brand's identity and character."
At Motor Village LA, we offer new Chrysler, Dodge, Jeep, Ram, and Fiat cars in Los Angeles, along with used cars, trucks and SUVs by top manufacturers. Our sales staff will help you find that new or used car you have been searching for in the Los Angeles, Santa Monica, Glendale, & Alhambra areas.
Our financial staff at Motor Village LA can offer expert advice for those seeking a great Chrysler, Dodge, Jeep, Ram car loan or lease. Our service doesn't stop there. Los Angeles customers can come in and take advantage of our knowledgeable Chrysler, Dodge, Jeep, Ram  and Fiat car repair technicians and a fully-stocked inventory of Chrysler, Dodge, Jeep, Ram and Fiat car parts.
You can reach Motor Village LA any time by filling out our contact form, by calling us at (877) 269 - 5109, or simply visiting our downtown Los Angeles Chrysler, Dodge, Jeep, Ram and Fiat dealership at 2025 South Figueroa St, Los Angeles, CA, 90007.